Under Pressure | תחת לחץ
04/03/2016 - 25/03/2016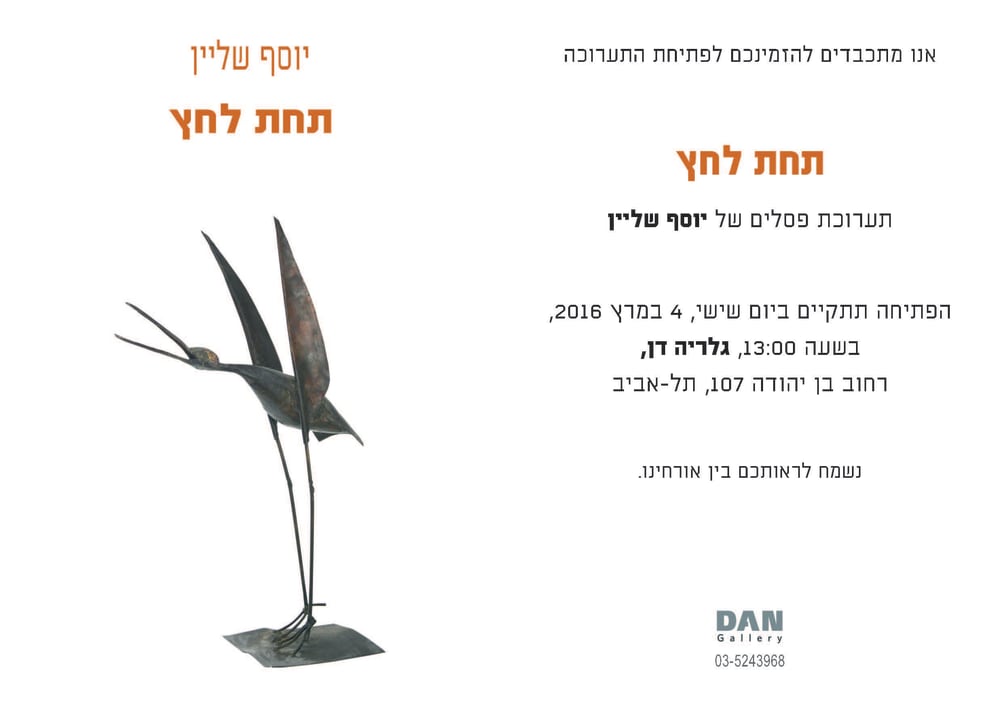 Yosef Schlein is a scientist and an artist. He is a professor at the Department of Parasitology of the School of Medicine at the Hebrew University in Jerusalem, and has been a sculptor for many years.
In this exhibition, Schlein presents sculptures of men and animals - birds, which are outlines of the works. The sculptures feature highly expressive human figures. They have been created within a minimalist concept, and their presence in space is fashioned out of reduced contour lines.
The Israeli public is acquainted with Schlein's previous sculptures of animals, shown at his earlier exhibitions. Whether made of bronze or shredded material, they are charged with the tension that stems from precise visual perception. Schlein strives to minimize lines and shapes, producing a movement that is vital and repressed at one and the same time, and stretched up to the limit of its capacity. His fellow artist Yosl Bergner wrote about Schlein's work: "His birds and animals want to fly and to run, but Yosef Schlein holds them back with all his strength… he knows that they are in fact frozen in an eternal attitude of escape".
Tense and attentive, the figures of animals, birds and humans seem ready to move, having been captured before moving or flying. They create the feeling of being permanently on the brink of drama and in preparation for something that might happen at any minute. The tension between movement and standoff in Schlein's sculptures is a sign of their double personality as inanimate objects, in which shapes have been instilled, thereby doing an impression of life.
Shlein's works sustain a covered, permanent discussion on the phenomenon of borders: between the contour and a demarcated area, between medias, space and shape, flatness and three-dimensionality. The sculptures maintain an intensive dialogue with the spectator, as a result of the reduction of line and shape. These demarcate the already existing space, giving it the most meaningful shape.
Irit Levin