Landscape Anomalies | חריגות בנוף
06/09/2012 - 26/10/2012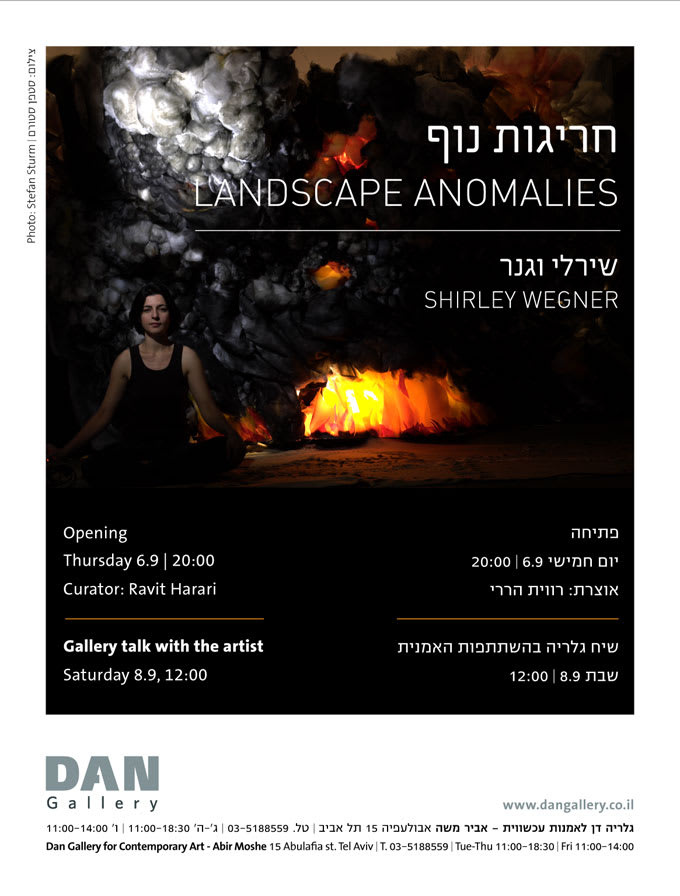 Shirley Wegner, an Israeli artist who has been living and working in NY for the past decade (after graduating from Hamidrasha School of Art in Israel, and receiving her MFA from Yale University), is integrating photography, installation art, painting and site-specific work. Her work centers on how our own perception of reality may be constructed, what forms of representation it may take in both our personal and national consciousness, and how this reality is then etched in both our private and collective memory. In her work, Wegner refers to the act of remembering an experience of gazing at the Israeli landscape.
She then carefully reconstructs these landscapes into large sets within the walls of her own studio, and photographs them. In the exhibition "Landscape Anomalies," this series of "landscape photographs" is shown alongside several other works: a site-specific installation titled "Eucalyptus," planned especially for and created in the gallery; a series of photographs based on a labor-intensive process of reconstructing detailed aerial views; and a series of collages, which served as studies for her photographs. All of these works are created through a painstakingly detailed process, which slowly carves its way through the very material it uses, and characterizes Wegner's unique artistic language.
Wegner's "landscape photographs" represent a continuous body of work, created through a multi-layered process of construction, which took place over months at a time in her NY studio. It begins with preparatory drawings of the artist's own memories of Israeli landscape, continues with reviving these memory images into three-dimensional stage sets, and culminates in photographing these sets in order to reclaim their two-dimensional, flat-image state. Wegner does not reconstruct existing or readymade photographs, rather, she leans on a preexisting visual collective knowledge, and animates landscape pictures that have previously been imprinted into our private and collective consciousness, and therefore seem so familiar.
The act of photographing the sets in a sense glorifies them, and validates them as allegedly 'real'; this, in and of itself, is part of her craftsmanship of reconstruction and representation of memory. On the other hand, by photographing the sets – an act done by a professional photographer following specific instructions from Wegner – and by "reducing" the three-dimensional landscape into a flat photographic image, the artist also minimizes her own presence in the set she had just completed, and distances herself even further from it. This process illustrates her preoccupation with the reciprocal relationship between different representationsof reality, collective memory, and personal points of view.
Eucalyptus groves, cactus fields, ruined and abandoned houses, or construction sites are all stitched together over long periods of time, using fabric, foam, paper, and painted Styrofoam, among other materials. She uses everyday, transient materials for her work – much like the short-lived, fleeting memory itself –rather than wood, stone or metal. Her craftsmanship is well evident in the work. Using these everyday, mundane materials, Wegner sculpts an already disentangled, loose-around-the-edges picture of landscape which may already seem ill-made as it reveals its hanging wires and visible stitches. These pliable, soft materials may often seem borrowed from the world of child play, alluring to an early, naïve memory imprinted in one's consciousness at an early age. Parts of the landscape may sometimes remind us of marionettes hanging on string, abiding by the directions of the artist, and bring to mind the fragility of our own concept of reality – it, too, seems to be hanging by a thread. Wegner's images maintain a well-balanced discord between what seems at first glance a real landscape and manmade constructed stage sets. Photographing the sets turns them yet again into a memory picture trapped between reality and fiction, the personal and the collective, and a private space, which allows for a nostalgic point of view, and a public one that raises a critique on these very issues.
Ravit Harari