Invasion | פלישה
13/11/2014 - 18/12/2014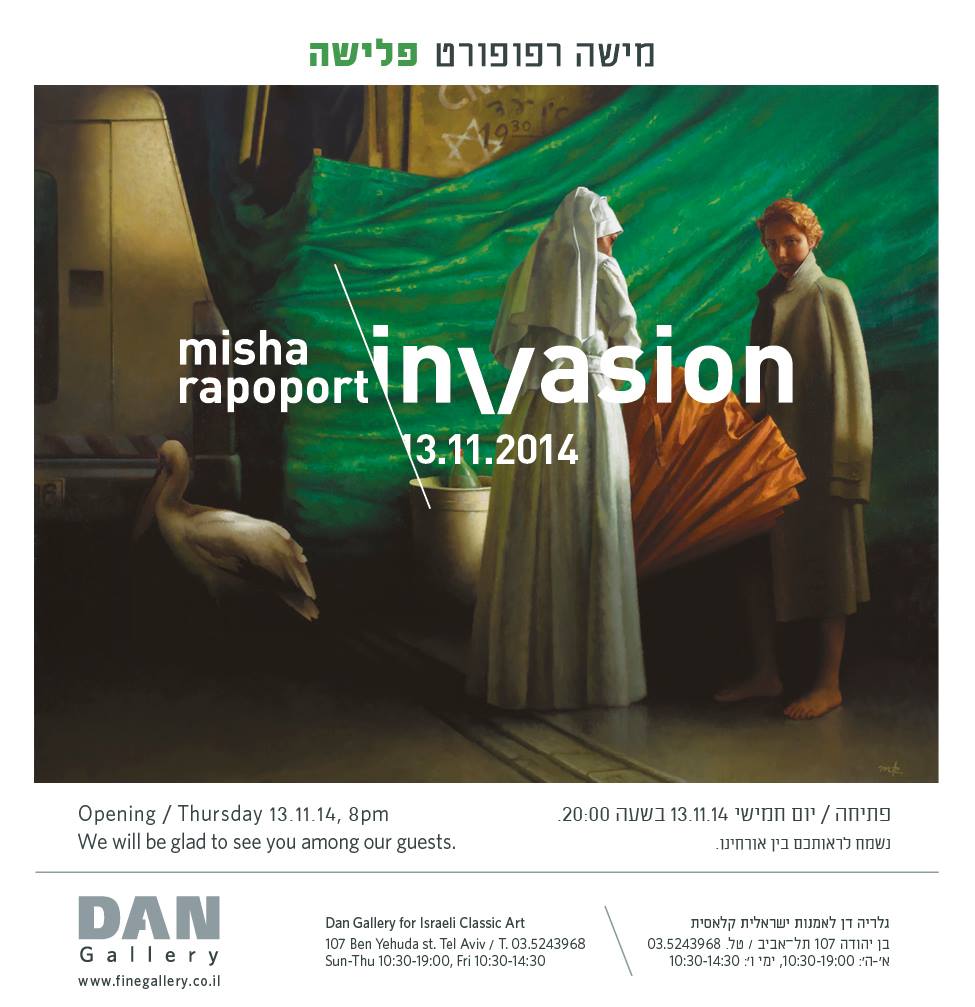 The art of the early third millennium is greatly influenced by the worlds of swift technology and the desire for the rapid marketing of products. The ideas and messages conveyed by paintings, photographs, installations and sculptures must therefore be such, that the viewer can accept them instantly. They must evoke the viewer's interest, quickly luring him in and then letting him go, making room for the next entry.
One of the main characteristics of contemporary art is the undermining of familiar notions. Based on innovation and renewal, this art relentlessly seeks new ways of expression and chases after originality, striving to be different from that which proceeded it. What is the secret of this disruption, what is its goal, how is it expressed and, most importantly, what does it tell us, the viewers, about our culture? For centuries, artists have been creating and inventing the new, but in this age of capitalism, the tempo of change has become a value unto itself. Misha Rapoport is an exception to this rule. He tries to capture the viewer's attention and make him or her stop for a moment and simply gaze, learn, and enjoy.
Rapoport's canvases do not bear the standard of the revolution. He comes from the world of classical art, on which he had been educated in his days as a youth in Kazakhstan. But a lot has changed since then, and in his current work, which can be seen in his new exhibition at Dan Gallery, nothing is to be taken for granted.
At first glance, Misha Rapoport's paintings appear classical, depicting the landscapes and people that populate our world. One can easily recognize familiar or mundane environments, people and painting methods. A second glance, however, reveals that Rapoport undermines these conventions and demands a deeper, more focused study by the viewers, inviting them to try and decipher the messages conveyed by his art.
Rapoport strives to create a bridge between the classical and the contemporary. He does not feel the need to incessantly tell the story of his self; a need he recognizes in many contemporary artists. Art is a bridge between realities and situations, between stories and fairytales and the concrete reality we encounter in our everyday lives. This attitude allows Rapoport to create paintings unbound by times and places, refining connections that also transcend such specificities.
The exhibition's centerpieces show a seemingly surprising connection between the figure of a nun wearing a white robe and a damaged commercial vehicle. Oscillating between the sacred and the secular, this depiction is most peculiar in the context of Israeli painting. Why would the artist choose to paint a nun, of all things, near a wrecked car that has likely been in an accident? The architectural setting is also unclear. One can surmise that it represents the memory of old structures, perhaps condemned houses, such as those in Jaffa or Neve Tzedek in southern Tel Aviv.
The special connections depicted by Rapoport incite the viewers' curiosity, making them want to unravel the meanings contained within them.
Hagai Segev