English Education | חינוך אנגלי
11/09/2011 - 28/10/2011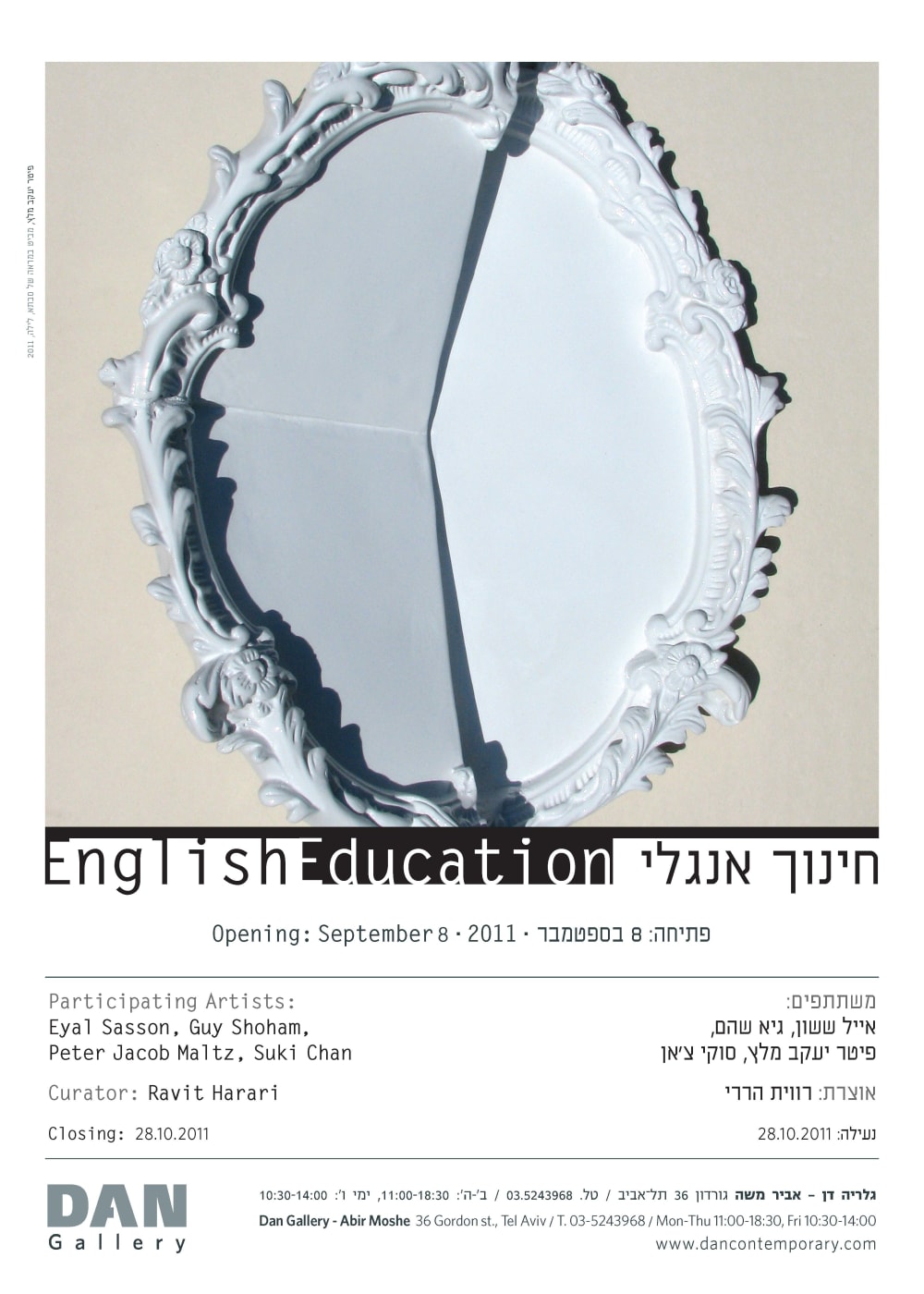 The exhibition English Education brings together three Israeli artists and one British artist who all studied in the UK. This exhibition is concerned with the manner in which these artists' works have been impacted by the traditional English approach to art education, which is characterized by an emphasis on seemingly traditional aesthetic values. Two of the artists, Eyal Sasson and Peter Jacob Maltz, studied at the Royal College of Art, while the two others artists, Guy Shoham, and Suki Chan, studied at Chelsea College of Art & Design. The works in this exhibition, paintings, sculptures and video installation, all have a somewhat stately quality; they are all characterized by a rich visual language, which alludes to the vestiges of a glorious, decadent British past. These works are concerned, in different ways, with what are perceived as traditional English symbols, while rupturing or distorting them. The subversive cultural or social critique embedded in these works is always implicit; it is concealed beneath the beautiful, fragile surface, and echoed in reflections, mirror images, and shattered shards of glass.
Eyal Sasson paints spaces that appear as existential set designs. His grand architectural structures resemble European palaces frozen in time and transformed into museums, which reflect a process of cultural decline and the glory of a decadent past. The vast rooms lead to other spaces through numerous openings and passageways, creating a labyrinth of sorts that imprisons the depicted human figures. These images are paralleled by a universe of porcelain dolls imprisoned within glass display cases. The legless human figures, whose gazes are averted, appear alongside the immobile porcelain figures, which are reflected over and over in different surfaces. The turquoise support of some of these paintings imbues them with a cold atmosphere, while the broad, rapid brushstrokes appear to disassemble the image as it is being created; this language of painting, which stands out in contrast to the depicted spaces, endows the images with a wild, urgent quality.
A European flavor similarly infuses the paintings created by Guy Shoham, an Israeli artist who lives and works in London. Shoham is concerned with the ossified, ancient quality of European culture, and depicts figures that resemble china dolls. These recurrent dolls, some of which are broken, appear in a range of theatrical or enigmatic scenes; even the human figures depicted in some of the works resemble china dolls or stone sculptures, and are depicted in a static, artificial painterly language. As Hemda Rosenbaum has remarked, "Shoham takes the classical world of painting and amplifies its artificial quality by populating it with china figures. The vacillation between an intentionally artificial quality and an illusion of truth is central to his works." The paintings featured in the current exhibition also include fantastic, dreamlike figures whose reflections dissolve in pools of water, which one would imagine belong to a stone fountain or pond in a European garden.
The sculptures created by Peter Jacob Maltz, an Israeli artist who was born in Britain, capture everyday events and constitute physical and spiritual "journeys" throughout a range of real or imaginary geographical, historical, and mythical spheres. The works included in this exhibition are based on a series of mirrors that belonged to his late English grandmother, and create an impossible encounter between her and the artist. This encounter expresses Maltz's longing to reconnect with his deceased grandmother, as well as to examine his national and cultural identity, and to create an encounter between the English culture in which he was raised and his everyday life in Israel. Maltz, who immigrated to Israel with his parents in 1977, grew up in a home whose eclectic cultural and aesthetic character included English objects and paintings, which impacted him in an unconscious manner. During his student years at the Royal College, an established and prestigious institution that promotes classical values yet encourages their elegant transformation or distortion, the English influence that impacted his personal life was fused with his art. In this spirit, Maltz "desecrates" his grandmother's elegant mirrors by shattering and then reassembling them; alternately, he covers them with wet towels – a quotidian, unglamorous element.
This picture is completed by the video installation created by Suki Chan, a British artist of Asian descent, who creates environments characterized by a combination of control and loss of control. Chan's imaginary dreamscape features a futuristic city, whose silhouette is created by means of a projection cast onto shattered glasses that are strewn on the floor – as if in the aftermath of a wild party. This surreal vision is intermittently disturbed when the artist's figure appears in the background of the projected video as she rearranges the glasses, operates the fog machine, or steadies the camera. In this manner, Chan calls our attention to the cinematic language she is using, and to the carefully calculated construction and staging of the represented narrative.
Ravit Harari